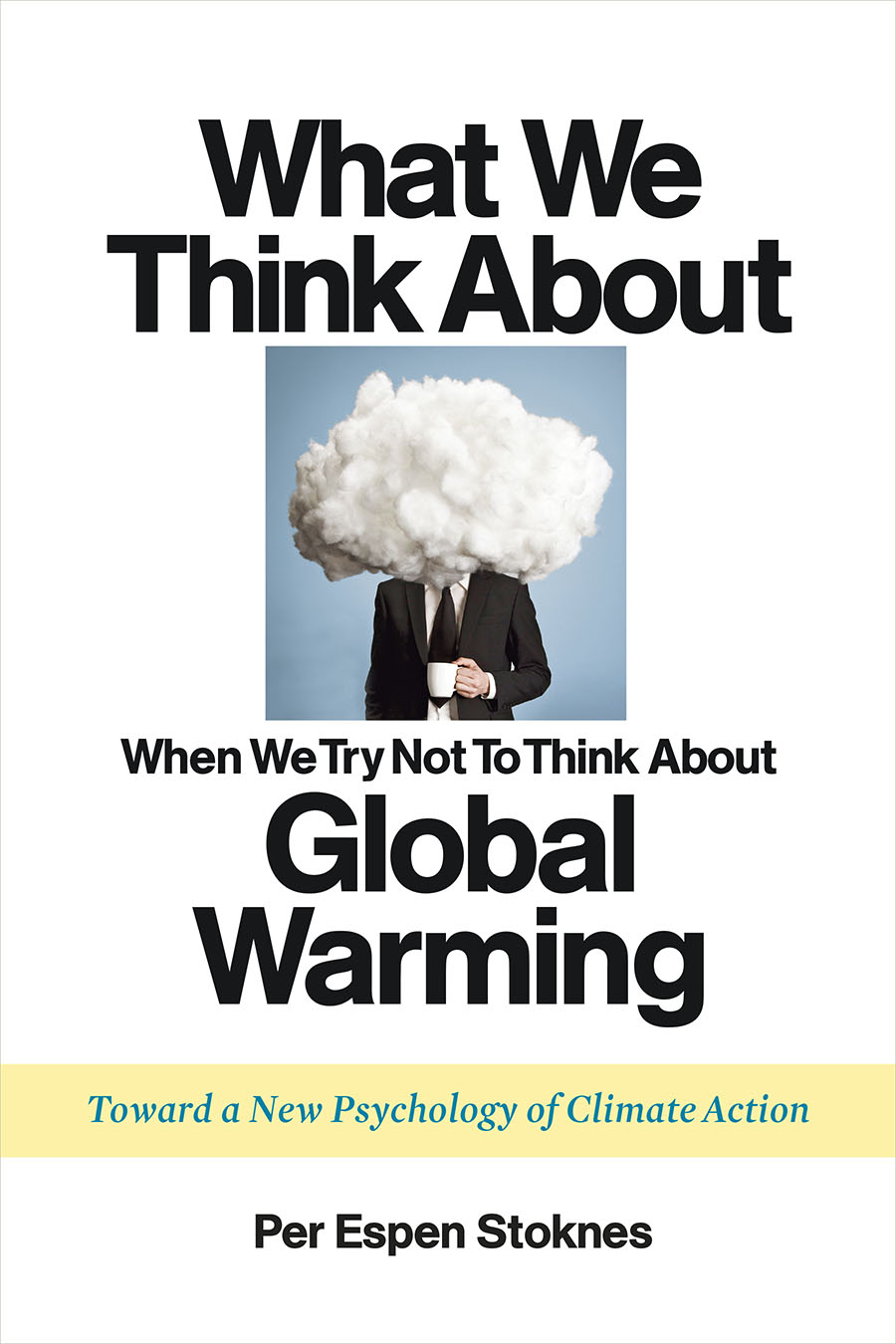 Frustrated about climate change? You're not alone. Most people in our society find themselves somewhere on the spectrum of depressed about our climate situation to flat-out denying that it exists. In fact, the more information about global warming that piles up, the less we seem to do to combat it.
What is the reason for this paradoxical truth?
The answer can be found in how our brains respond to information about climate change, says economist and psychologist Per Espen Stoknes.
In What We Think About When We Try Not To Think About Global Warming, Stoknes identifies five psychological barriers that keep us from taking widespread, large-scale climate action:
Distant: We distance ourselves from the climate issue
Doom: We avoid messages of doom and sacrifice
Dissonance: We experience cognitive dissonance
Denial: We rid ourselves of negative feelings of guilt and fear through denial
Identity: We resist criticisms of identity, jobs, lifestyles, etc.
The good news is that there are solutions for pushing past these psychological barriers.
As Stoknes notes, we "can view our task as one of overcoming the Five D's, or we can frame it as finding ways to circumvent or bypass them. Therefore, the first principle is to turn barriers upside down. We can jujitsu them to become key success criteria for new climate communications."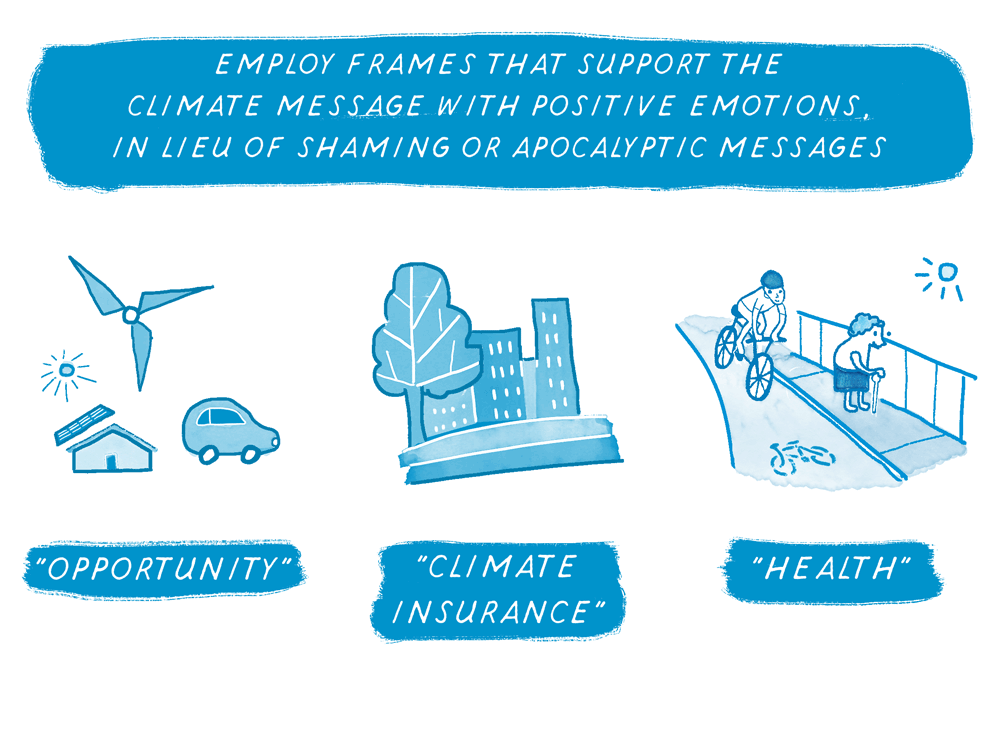 To bypass barriers, successful climate communication should: make the issue feel near, human, personal, and urgent; use supportive framings that do not backfire by creating negative feelings; reduce dissonance by providing opportunities for consistent and visible action; avoid triggering the emotional need for denial through fear, guilt, self-protection; and reduce cultural and political polarization on the issue.
Here are the five strategies Stoknes provides for how we can talk about global warming in a way that creates action and cultivates hope:
1. Social: Use the Power of Social Networks
Use social norms to motivate others to:
Reduce power and water consumption;
Spread social norms through green products and services (rooftop solar, eco-apps); and,
Improve recycling efforts.
Use groups and word of mouth from trusted peer messengers to:
Clarify the scientific consensus;
Join Earth Hour or similar initiatives;
Set up home parties; solar panel buying clubs; local-patriotism climate conversations;
Introduce the topic of climate in existing networks (churches, clubs, sports, etc.); and,
Join Carbon Conversations and Transition Town efforts.
2. Supportive: Use Positive Framings
When speaking of climate, frame it as:
Insurance against risk;
Health and well-being;
Preparedness and resilience;
Values and a common cause; and,
Opportunities for innovation and job growth.
3. Simple: Use Green Nudges to Make it Simpler to Act
Some examples
Make life-cycle costs salient on all appliance price tags;
Make smaller plates in restaurant buffets the default;
Include voluntary CO 2 price fees in plane tickets as the default.
Increase the frequency and speed of buses and biking while reducing car parking and access to city centers.
Bundle home reinsulation with attic cleaning and renovation; and,
Make double-sided printing the default.
4. Stories: Tell Better Climate Stories
Avoid apocalypse narratives, and instead tell stories about:
Green growth;
Happiness and the good life;
Stewardship and ethics; and,
Re-wilding and ecological restoration.
When telling stories, make them:
Personal and concrete;
Vivid and extraordinary;
Visual, as in "show, don't tell;" and,
Humorous and witty, with strong plot and drama.
5. Signals: Integrate Climate Communications with New Indicators of Progress
How we respond to signals, or indicators, depends on how accessible, interactive, and relevant they are. "Just numbers" don't mean much. But if we can make the signals vivid and interactive and available through social media and social norms, we may see them come alive among the public. When connected to stories, they create meaning. Getting the signals of our progress right is absolutely essential for the long-term success of climate communications. Otherwise the global climate data will have no impact on social decisions.
To support new stories, we need new indicators to provide feedback on progress, such as
Greenhouse emissions per value added;
Happiness, well-being, and integrated wealth;
A personal carbon budget that could be tracked like a bank account; and,
Ecosystem health and biodiversity, or nature, index.
Take a look at the following illustration of Per Espen Stoknes' five strategies and help reshape how we talk about global warming.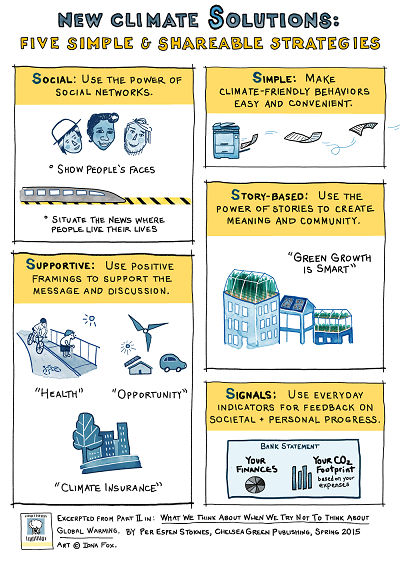 Find more from Per Espen:
BoingBoing, "The 5 Psychological Barriers to Climate Action"
Common Dreams, "The Great Grief: How to Cope with Losing Our World"
Psychology Today, "The Coming Climate Disruptions: Are You Hopeful?"
"Depressed About Climate Change? Good. Here's How to Take Action"
Watch Per Espen Stoknes' interview with Thom Hartmann:
Illustrations by Iona Fox
---