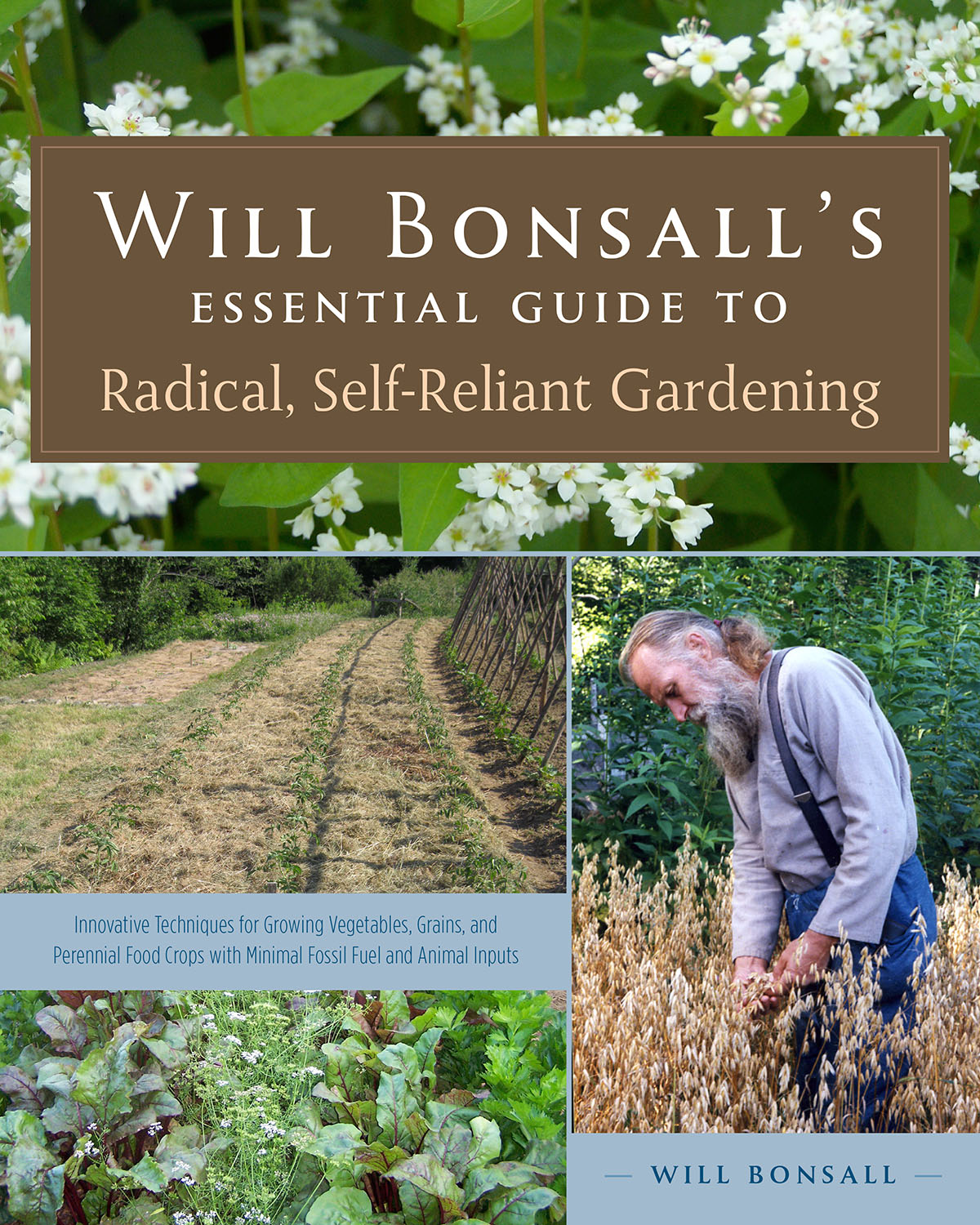 In today's world the marketplace distorts our values and our dependence on petroleum keeps us from creating truly sustainable agriculture. So, how can we achieve true wealth and at the same time make society around us more resilient?
The answer, Will Bonsall believes, is greater self-reliance in both how we grow our own food, and what we grow.
In his new book, Will Bonsall's Essential Guide to Radical, Self-Reliant Gardening, Bonsall shares innovative techniques based on his more than forty years of farming experience. For him, in order to achieve real wealth we must first understand the economy of the land and realize things that make sense economically might not always make sense ecologically.
With a "spend less instead of making more" mentality, Bonsall has learned to practice a purely plant-based agriculture. He avoids any off-farm inputs (fertilizers, minerals, animal manures) and instead draws upon the fertility of on-farm plant materials such as compost, green manures, and perennial grasses. Using this technique, he is able to grow and harvest a diverse range of crops including vegetables, grains, oilseeds, fruits, and nuts.
Throughout his book, Bonsall shares his wealth of knowledge of eco-efficience as he calls it, and his vision for how we can achieve a more resilient society. "His goal," he says, "is not to feed the world, but to feed myself and let others feed themselves. If we did that, it might be a good beginning."
For more thoughts from the author and what makes his approach to gardening unique, check out the interview below.
A Conversation with Will Bonsall
Your book is titled "Will Bonsall's Essential Guide to Radical, Self-Reliant Gardening." What's the difference between radical, self-reliant gardening and just "regular" gardening?
WB: "Regular" gardening, even "regular organic" gardening, pays little attention to the real bottom line: where do all these soil-building materials come from and what is their real (ecological) cost. These things are often unaccounted for by the marketplace, but in a truly self-reliant system it's impossible to ignore the "externalities."
You put a lot of value on eco-efficient plants in your book. What is an eco-efficient plant?
WB: An eco-efficient organism – whether plant or animal – is one which gives back a lot of what I sometimes call "earth-blessing" (call it energy or resources or whatever measure you choose) in proportion to whatever was required to produce it. Any green plant is much more eco-efficient than any animal, but even within those kingdoms there's a huge range of eco-efficiencies, and whatever choices we make, it behooves anyone interested in living sustainably to reckon all those things into our calculations.
Ramial (also known as small brush which has been put through a chipper) is a term that seems like something new—at least for use in gardens. Is it a new discovery? What makes ramial chips special?
WB: The use of ramial and forest residues in general is relatively new, and somewhat counter intuitive, given that those materials generally are very low in nitrogen. However, forest residues (like the ecosystem that produces them) are quintessentially eco-efficient, and so my book describes how to parlay these "low-value" but superabundant materials into precious humus – spinning gold from straw.
You spend several chapters talking about growing grains, pulses, and oilseeds. Why do you think so many people overlook these crops when designing their gardens and how important are they to self-sufficiency?
WB: Gardeners with limited space need to focus on the crops that produce the greatest dollar- and food-value per space, which is understandable, if one can't grow everything. I'm just trying to give encouragement and information to those who can and want to move on to those hard-hitting staple crops. After all there's a limit to how self-reliant we can be by raising salsa-ingredients.
Given your decades of experience growing food, what's the most important thing you've learned about gardening that you'd like to pass along to the next generation of gardeners?
WB: I've come to appreciate that gardening/farming must go beyond a labor-of-love: if it is to be truly sustainable, it must make the most efficient use of our finite hours and powers. We need to find strategies for reducing drudgery and wasted effort but without recourse to more fossil-fueled machinery and imported stuff. We desperately need to invent an organic technology which supplants both tractors and horses. In the meantime, gardeners need to accept that they cannot do everything, and decide how to realistically accomplish what they can.
For a glimpse into Will Bonsall's Guide to Radical, Self-Reliant Gardening check out the following excerpts:
---