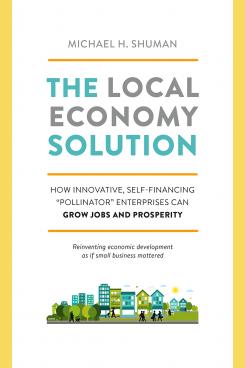 Economic development today is completely broken. That's the argument of author Michael Shuman in his new book, The Local Economy Solution.
The singular focus on attracting global corporations is not just ineffective but counterproductive, Shuman argues, especially given the huge opportunity costs. Indeed, it's not far-fetched to suggest that the best way most communities can "develop" is by abolishing their economic-development departments altogether.
Shuman (author of the previous book, Local Dollars, Local Sense) isn't quite that cynical. "I do believe economic development can play an important and constructive role in communities." writes Shuman in The Local Economy Solution.
Instead, he thinks local economy boosters should embrace the following initiatives:
Nurture the start-up and growth of locally owned businesses;

Maximize cost-effective self-reliance through import substitution, while expanding exports from local businesses;

dentify, celebrate, and spread models of triple-bottom-line (people, planet, profit) success in local businesses'; and,

Accomplish as many of these goals as possible through private investment.
In his new book, Shuman shows how communities can move away from corruption, and how economic development should be carried out through what he calls "pollinator businesses" and primarily funded through private capital.
What are pollinator businesses? They already exist and they are seeding and strengthening other local businesses. They are creating jobs. And, they are facilitating local economic development with far greater efficacy than older, top-down approaches. They are also self-financing, which eliminates the need for communities to waste precious taxpayer dollars on recruiting global corporations from afar or to rely on unpredictable, one-time grants or philanthropy to fund economic development.
In The Local Economy Solution, Shuman profiles 28 pollinator enterprises that are spurring small-business

efficiency, neighborhood improvements, entrepreneurship, local purchasing and investing, profitable business partnerships, stronger labor and environmental performance, and more.
How can this become reality? It all comes down to six Ps—local planning, local purchasing, local people, local partners, local purse, and local public policy. Each are explored in-depth in The Local Economy Solution.
In addition to providing a path forward, Shuman shatters eight of the most common myths about economic development that are holding communities back from being truly innovative. Here are three of those myths, and Shuman's takedown of each:
The Ownership Myth
Claim: "We should focus our economic-development efforts on any businesses operating in our jurisdiction, whether or not they are locally owned."
Reality: This is perhaps the most fundamental and destructive error of mainstream economic development. It's driven by a misunderstanding of the causes and consequences of globalization. The underlying error economic developers made was their belief that all the companies that mattered were now globally mobile. Hardly. More than half the US economy comprises small and medium-scale businesses that are almost entirely locally owned and unlikely to move.
The Competitiveness Myth
Claim: "Local businesses are a poor bet for economic development because their goods and services cannot compete against global companies."
Reality: More nonsense, often spouted by economic developers when they bring a Wal-Mart to town, brag about all the new jobs they've created, and deny responsibility for killing existing retail jobs. Please. Broadly speaking, local businesses have done remarkably well at competing, despite the best efforts of economic developers to knock them down through neglect or by subsidizing their global competitors.
The Self-Financing Myth
Claim: "Hey, economic-development incentives don't cost anything, because the growth of business ultimately pays for them."
Reality: This claim is pure alchemy. A tax break for an attracted business, we're told, really doesn't cost anything, because without the attraction, no additional taxes would have been collected anyway. If you buy that argument, then I suggest we all make the following pitch to our local governments: "Hey, I'm planning to build a $1 million addition to my house. Please give me the $1 million up front, and I'll pay it back to you in more property taxes."
---