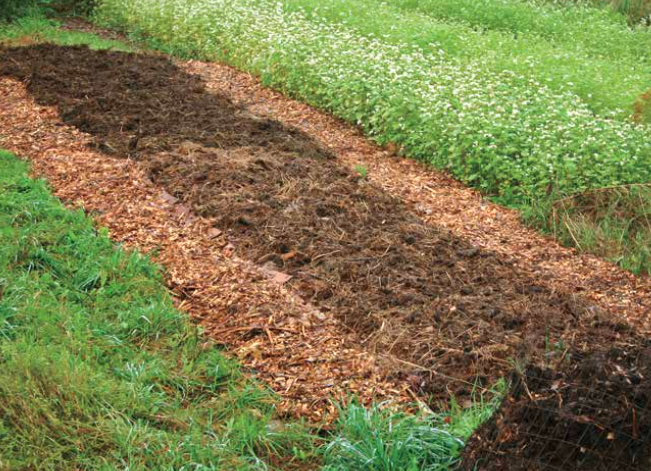 As Permaculture Month continues, we are making our expert authors available to answer your burning permaculture questions. If you have a question to submit, fill out this form.
This week, Lottie from Florida asked if there are other garden mulch options that are as effective as hay. Josh Trought, one of our soil building and garden management gurus, tackles this question in the response below. Josh is the founder of D Acres—a community farm and educational center in northern New Hampshire—and author of the recently published The Community-Scale Permaculture Farm. In his garden, he uses cardboard and newspaper extensively to suppress weeds, among other mulching materials including hay, straw, seaweed, grass clippings, and leaves.
To gain even more permaculture know-how, read Farming the Woods author Steve Gabriel's answer to a question about growing pawpaws and a series of other expert author responses to questions on soil preparation, garden design patterns, swales, and more.
Lottie from Florida writes:
I have always used hay to deep mulch my urban garden. After a bad experience with some killer compost that contained contaminated horse manure and left a portion of my yard barren for over five years, I have been scared to use commercially purchased hay, fearing it could also have been sprayed with herbicides. Do you know of any other item that I could use that would be as effective as mulching hay?
Josh Trought: Thanks for the question. I certainly have some mulching experience I can share. First, some background info on hay. Hay is grown all over the country and may be available from a local farmer or broker. Look to pick up from a farm in the area or coordinate with neighbors for a cooperatively purchased delivery. At D Acres, we use feed hay to mulch in the garden. Feed hay is harvested 2-5 times per year depending on the climate and is cut and field-dried before the seed form to maximize the protein content. Hay is usually cut from fields cultivated and fertilized with grasses such as alfalfa, timothy and vetch and legumes such as clover. The cost of 40-80lb bales range from $7-10 in feed stores to $3-4 in the field or direct from a farmer. Mulch hay is a lower grade baled product typically utilized for erosion control. Some mulch hay had gotten wet during the drying period, rotted and is unsuitable for animal feed while other mulch hay is harvested from marginal fields at the end of the season to maintain the field space. This end of season cut of mature fields is often loaded with potential weed seeds. Typically hay is not contaminated with herbicides or pesticides that would endanger the livestock.
Straw is another garden mulching option favored by permaculturalists. Like hay, it is a baled product that is specifically grown as a mono-crop for mulch or it is the by-product of a mono-cropped harvest of grain. While some farmers might grow rye and harvest before the seed heads form, most straw is the residue left after oats have been chaffed from the stalks. Rye is the preferred straw because of the weed inhibition qualities produced by the plant material as it is rinsed by rain and irrigation. Due to these extra benefits, straw is typically 1.5 to 2 times the cost of hay per weight.
Both hay and straw are excellent for soil conditioning. The weave of fibers crisscross to protect the soil from light, wind, and water erosion, while cooling the soil, retaining moisture, and preventing weeds from germinating. As the fibers breakdown through the seasons, the long tubular structures are incorporated into the soil matrix assisting with horizontal and vertical transfers of air, water, and nutrients while providing pathways for roots and mycelium.
Other options for mulch could include seaweed, grass clippings, cardboard/newspaper, leaves, and biodynamic accumulators (soil-building plants).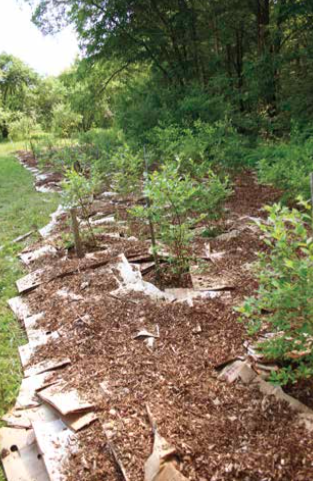 We utilize cardboard and newspaper extensively at D Acres to suppress sod and competitive plants (i.e. weeds). We source manila colored material with minimal printing from local retailers who would otherwise pay for disposal. By layering the material on the ground, it prevents plants access to light depriving them of essential energy for survival.  Over the seasons, the plants decompose leaving a rich friable soil.
The leaves of biodynamic accumulators such as comfrey can be used as mulch. The plants can be cut to the ground several times per year and spread to provide nutrients and weed suppression. Grass clippings can also be used in this manner, but be cognizant of the heat generated by decomposition and be careful not to "burn" your plants. If you are able to source it, seaweed might be another viable option.
While leaves can be incorporated as mulch, thick piles can become anaerobic and suffocate the soil. Thinly applied leaves rapidly blow away. Our most successful mulch incorporates a combination of materials cheaply and readily available. By integrating leaves and hay as a package, we can stretch the imported hay and achieve superior results.
Mulch can be any material used to suppress weed and retain moisture. While many commercial growers use black plastic as mulch, us permaculturalists seek local, viable natural resources whenever possible to achieve superior results. In general, we attempt to avoid plastics and synthetics that will degrade into the soil food web. Choosing your mulch is unique for every operation dependent on goals, timing, available resources and labor. Careful evaluation and experimentation yields the best results to grow nutrient-rich soil.
For more detailed information on mulch options read the Garden Development and Soil Strategy chapter from The Community-Scale Permaculture Farm.
---