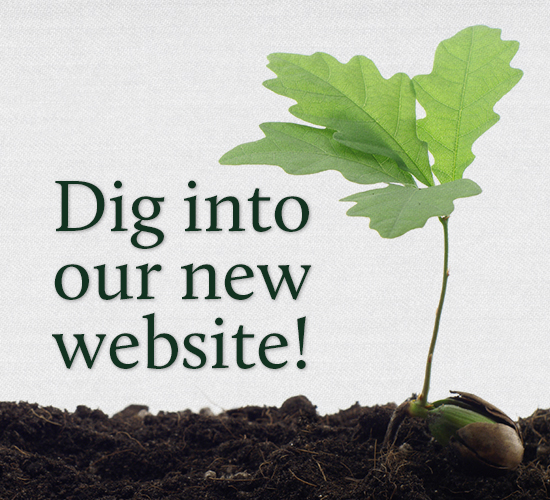 Welcome to the new, redesigned digital home of Chelsea Green Publishing! Over the years you have asked for better ways to connect with our authors, to share information with friends and family, and to buy books from us. We listened to your feedback and integrated your wishes with a fresh design that allows you to more easily connect with our authors, dig into our content and put it into action, buy a book and now
eBooks
, and much more. With our new, intuitive homepage, readers can quickly navigate through tabs to find exactly what they're looking for or scroll down to check out the latest books, blogs, events, featured authors, and special offers. Here's how you can use our new site to…
Connect with our authors
Since the beginning, we've aimed to be a bridge between you and our authors and their books. With our website redesign, it's now even easier to find information on your favorite authors and find out when they will be in your area. Using our
events tab
, you can filter search results to find events by date, author, location, and category. If you have a specific author in mind, head to their page for a complete list of their upcoming events. Find yourself on a book page? We've made it so you can access author information from most anywhere. Scroll down and select the "About the Author" tab and you'll find a bio as well as ways to connect with the author via social media and more.
Dig into our content
More than just a venue for buying books, our website is a place for you to learn about the topics and ideas that our authors champion.
Dig into our blog
to find the latest news and opinions from Chelsea Green as well as tips and techniques about how you can bring our books to life in your backyard, kitchen, or community. Scroll down on any book page to explore related content such as videos, reviews, articles, and suggestions for additional books you might like. Our
multimedia
section offers up a venue for diving specifically into video content including how-to demonstrations, workshops, and author interviews.
Of course, the main attraction at Chelsea Green Publishing is our books. We've added several new features to let you view our book lists exactly the way you want to. Filter by format (hardcover, paperback, or eBook) or sort through a list by price, pub. date, or alphabetically.  Whether it's scrolling over a book cover in "gallery" view and getting a pop-up summary or viewing all available formats on one book page, you'll easily discover what you need to know, and quickly, no matter where you are on the site.
Get the latest information on sales and special offers
Over the years we've published hundreds of books, many of them still in print and teaching a new generation. To find the most recent special offers on featured and bestselling books, visit our new
special offers
tab. Looking to have sale information delivered right to your inbox? We've made it simple to sign up for our email newsletter (and get 25% off your next purchase when you do!). Just look for the link in the top, right-hand corner of every page. If you're already on the list, be sure to tell your friends.
Answer your questions
We've made it easier than ever to find the answers to your questions by creating a robust search engine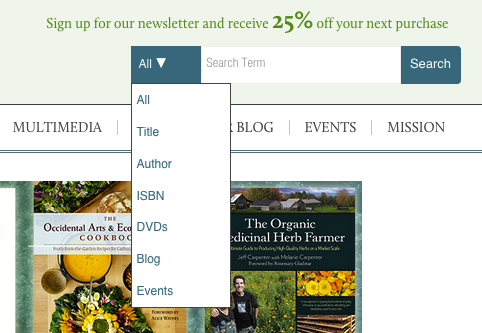 that gives you the newest, most relevant information at the click of a button. Our new search function allows you to search specifically by author, title, events, and more. If you're not looking for a specific book or author but have a topic in mind, plug it into the search bar and you'll find everything you could possibly want access to on that topic. For example, 
search "cider"
 and you'll be presented with any and all related books, authors, blog posts, videos, events, and even book excerpts.
Feel secure using our website
Chelseagreen.com has always been secure, but we want to make sure you have the peace of mind that your financial information is safe. We do not save your credit card information and we are certified by Authorize.net for online payment and McAfee to double check that our website is under lock and key. Speaking of checkout, our shopping cart has received a makeover. It's now easier to view your totals, determine shipping rates upfront, add in discount codes, and be certain you're purchasing exactly what you want, and only what you want.
Meet the CGP team
Last but certainly not least, meet the diverse, sustainably minded employee owners who make up our Chelsea Green Publishing team! In 2012, Chelsea Green became an employee-owned company, creating an ESOP in which employees control 78 percent of the company's privately held stock (the remaining stock is held by the founders, Margo and Ian Baldwin). This move was made to, in part, practice what we publish. It means that we all are uniquely invested in the success of our company and firmly dedicated to the Chelsea Green mission. Visit the
staff directory page
to meet these employee owners and read how, in their own words, each staff person views our company mission.
---